2021 Jeep Wrangler 4xe Hybrid Model Specifications | Barre, Vermont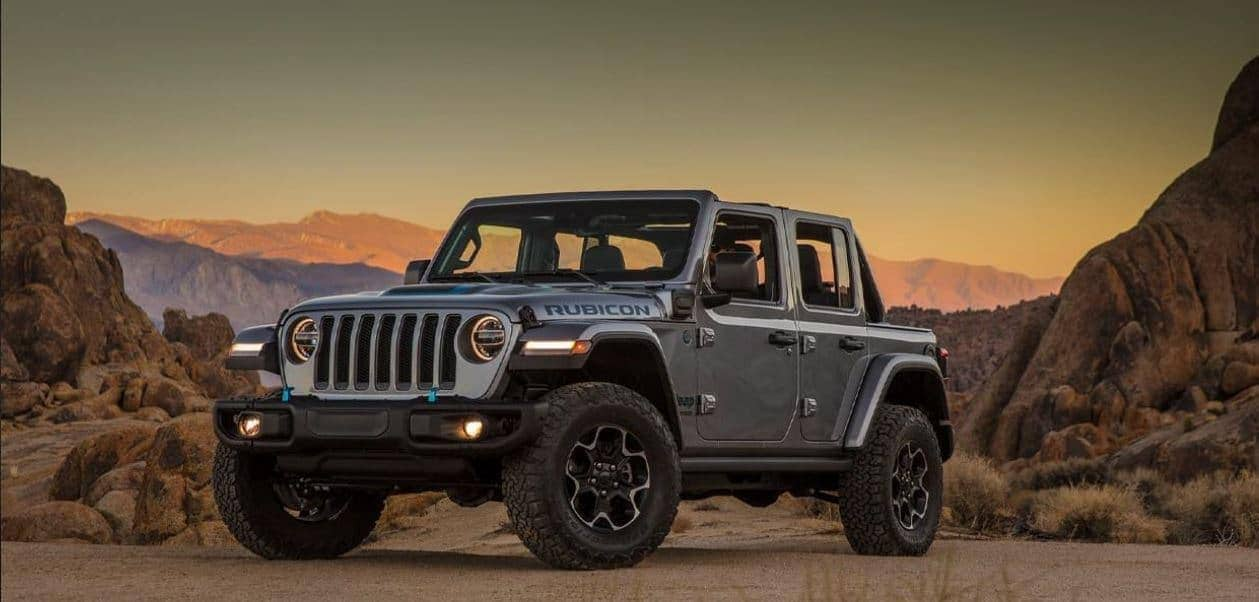 The most efficient and capable Jeep Wrangler ever is headed into dealerships in the spring of 2021!  Hybrid innovation in a 4×4 with no compromises it is what you would expect from the legendary Jeep Wrangler.  This Jeep Wrangler has been built for the ultimate off road experience with 375 horsepower and 470 pound feet of torque!  With that kind of torque you have instant power to crawl over any obstacle the trail will throw at you.
 Not only do you have the ultimate off road 4×4, you get 0 to 60 mph in just 6.0 seconds! Most impressive 50 MPGe with up to 400 miles of total range, while helping our planet's environment.
In Electric Mode, the Wrangler 4xe uses only battery power-so you can travel into nature with quiet, smooth and seamless starts and stops for minimal impact. Take the top and doors off, when off-roading, and you're truly one with the many wonders around you.   Your sense of your surroundings will be greatly enhanced with all electric power on hand for a quite drive like you have never experienced in any off road vehicle before.
Our inventory, showcases our current selection of Jeep Wrangler models. Don't forget to take advantage of our specials' big savings.  Have questions let one of our brand experts help.  We can be reached by phone at (802) 505-6331 or contact us online.
Power When You Need It
The Wrangler 4xe system is paired with a 2.0L I4 DOHC direct-injection Turbo PHEV engine to bring out the best in already proven Jeep® Wrangler 4×4 capability.  A 16-kWh lithium-ion battery pack, regenerative brake booster and eight-speed automatic transmission work seamlessly to send impressive amounts of power and torque to each wheel, maximizing the capability of every component. The sealed and waterproof battery pack and electronics even perform in the toughest of conditions, what you would expect from a true off-road SUV.
Charge Up For Action
Charge your Wrangler 4xe with an in-home charger or at over 250 public charging stations located around Vermont.  Drive Electric Vermont maintains a website with a lot of information for hybrid vehicle owners to get the most out of their investment in a clean energy vehicle.  In addition, Jeep has teamed up with Amazon to make in-home charging installation simple. With online scheduled appointments with a licensed electrician and the Amazon Happiness Guarantee, it's easy to get charged up for your next 4×4 adventure.
Tax Savings - Utility Savings
Federal Tax Credits for New All-Electric and Plug-in Hybrid Vehicles.  The all new Jeep Wrangler 4xe are eligible for a federal income tax credit up to $7,500.  A tax credit reduces the total amount of income tax you owe. So, if you owed $10,000 in federal income tax, a $7,500 credit would reduce the amount you owed to $2,500.  Savings are based on your actual annual tax liability.
Your electrical utility may also offer incentives, bill credits, and rebates on plug-in hybrid and all-electric vehicles that can further enhance your savings by going electric.